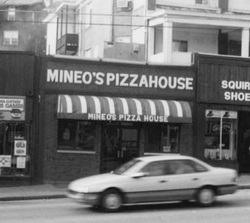 John Mineo took the 69 Squirrel Hill street car & found an empty storefront on Murray Avenue for rent in 1958...
the rest is family history with three generations.

Our dough is homemade from scratch, our sauce slow cooked from Italian tomatoes, our signature cheeses are hand grated daily...just as John did in 1958.

We believe never change a great family recipe.
---
---
Win
a $100 Gift Certificate to Mineo's Pizza House.
Visit our
Squirrel Hill Bar
or check out our Bar Page.
/our-bar.html
Super Bowl. Mineo's Pizza. Miller Lite. Win.
---
---
SUPER BOWL SPECIAL.
Mt Lebanon
Location.
FREE 2 LITER. Check out our Mt Lebanon Page for details.
/mt-lebanon.html
---